A fatal bicycle crash in Fenway killed a much-loved children's librarian from Cambridge, sparking renewed calls to action for city leaders to take the lead on better cycling safety throughout Boston.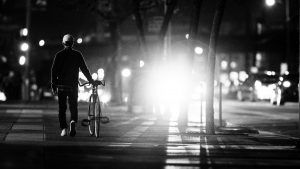 As our Boston bike attorneys understand it, 69-year-old Paula Sharaga was struck by a cement truck driver near the same area where a 24-year-old Boston University student bicyclist was killed in November by a dump truck.
Tragedy in Fenway: Bicyclist Dies in Crash With Truck
According to reports from the Massachusetts State Patrol, Sharaga was riding her bicycle near the intersection of Park Drive and Brookline Avenue on a Friday afternoon around 1:45 p.m. when she was struck by the front of a cement truck. A state trooper working a detail nearby responded first, discovering two civilians on scene tending to the victim and performing CPR. The trooper called for an ambulance. While emergency medical services were en route, a trauma physician appeared on scene, requested a ventilation bag from the trooper and proceeded to render aid until she arrived at the hospital, where she was pronounced dead. The 67-year-old driver of the cement truck was also transported to the hospital, where he was treated and released.
The initial investigation indicates the truck driver was stopped at a traffic light. Decedent was traveling through the intersection when the truck's light turned green and he proceeded through the intersection, the front of his truck struck the bicyclist.
Authorities have not yet indicated who was "at-fault," though our Boston bicycle accident lawyers know that in most bicycle-truck crashes, it is the motor vehicle driver who is typically at-fault.
In addition to her career as a librarian, decedent was known as a longtime bicyclist as well as an outspoken political peace activist and environmentalist. She leaves behind her musician husband of 25 years, as well as a host of family and friends. A moment of silence was observed by the Boston Bicyclists Union before their weekly ride the following day. The library where she worked closed for the weekend to mourn her passing, and flowers, gifts cards and other tokens piled up by the front doors in remembrance of her.
Cycling Advocates: Boston Bike Safety Improvements "Not Fast Enough"
After the bike-truck crash that killed the university student nearby last fall, the LivableStreets Alliance has made repeated pleas for traffic safety improvement in those areas. The executive director of the organization told The Boston Globe shortly after Sharaga died, that she felt horribly saddened for Sharaga's family, but also "deeply frustrated." She noted, as have our longtime Boston bike attorneys/bike safety activists, that this is a dynamic area frequented by bicyclists – and it isn't safe. None of this has been a secret to city officials either.
"(It) needs improvements," the executive director told the paper. "It's not moving fast enough."
The sentiment was echoed by a city councilor from Cambridge, who said on Twitter that safer streets and and stronger regulations pursuant to truck safety equipment are an imperative.
When Trucks and Bicycles Collide in Boston
Trucks are large. They can cause a lot of damage when they strike smaller vehicles. For this reason, there are federal, state and local requirements regarding how they must be maintained and how drivers must be trained. The standard of reasonable care by which truck drivers are judged is higher than the average motorist because trucks are so much more dangerous – particularly to bicyclists and pedestrians on urban city streets like Boston.
Per the most recent data on large truck and bus crashes from the U.S. Department of Transportation, the most common scenario when bicycles and trucks collide is that cyclists are struck by the front of the truck (78 percent of all cases). In nearly 7 percent of all fatal truck accidents, the truck driver was speeding. In 6 percent, the trucker was distracted. In truck accidents resulting in wrongful death, 4 percent of truck drivers failed to yield the right-of-way.
Per the National Highway Traffic Safety Administration, bicycle crash deaths in the U.S. were at their highest level in a quarter century as of 2016.
One of the greatest risks cyclists face when encountering a collision with a truck – aside from the sheer size disparity – is the fact that trucks without side guards can trap and pull a cyclist (or pedestrian) underneath the wheels. More often than not, this proves a fatal scenario.
Boston was the very first city in in the U.S. to pass an ordinance requiring city-contracted trucks to be equipped with side guards. It also has an ordinance that mandates these trucks use convex mirrors to help drivers better see in the oversize blind spots inherent to large trucks.
Somverville is the only other city in Massachusetts to officially follow suite. A proposal by elected leaders in Beacon Hill would mandate side guards on all large trucks owned by the city and ask that state officials pass a similar measure applicable to the whole Commonwealth, with contractors required to meet the standard in the next three years.
Traffic Homicide Investigation Could Take Weeks, Months
As we noted in our Boston Bike Attorney Blog exactly one year ago, updates to the Boston and Cambridge bicycling safety infrastructure will take time. However, such tragic, senseless losses are painful reminders that this isn't a political game; thes aren't issues we can afford to place on the back burner. There must be a constant effort to create safer cycling on Boston streets.
This incident is still under investigation by authorities, but the conclusions reached in that inquiry will not necessarily be the last word on whether there is a civil case down the road. Whereas traffic homicide investigators will be examining violation of criminal and traffic laws, civil courts ascertain liability by examining whether either party was negligent, and to what degree. This means examination not only of adherence to state traffic laws and local ordinances, but also whether those involved acted as a reasonably prudent person would in the same or similar circumstances. MGL Ch. 235 s. 85 holds that even if one is contributorily negligent (i.e., also at-fault) it will not bar recovery of damages, but it may proportionately reduce it.
There are key differences between civil and criminal bicycle accident cases. Our attorneys would know – we wrote some of those laws personally. As longtime, avid cyclists and legal advocates, we have extensive experience and a long track record of success in litigating fatal bicycle accident cases in Boston. We are available for free initial consultations with victims to discuss the early stages of these investigations and the potential for legal action.
If you or someone you love has been injured in a Boston bicycle accident (we prefer the term "bike crash"), call for a free and confidential appointment at 617-777-7777.
Additional Resources:
69-year-old Cambridge bicyclist dies after Fenway collision, Feb. 15, 2019, By Danny McDonald and Sabrina Schnur, The Boston Globe
More Blog Entries:
Bike Lane Safety Improvements Could Prevent Serious Boston Bike, April 4, 2018, Boston Bike Accident Attorney Blog