Just the thought of spring makes winter-weary Bostonians itch to get back on their bikes.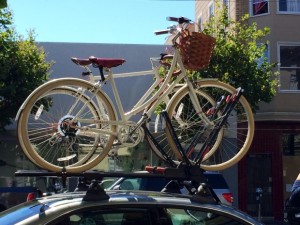 All but the most dedicated cyclists are forced to halt or significantly curb their riding during the colder months in Massachusetts. From November to March, roads and bike paths are caked with alternating layers of snow, slush, ice and gravely salt and sand, making the going too tough for all but the most ardent.
But higher temperatures and clearer skies don't make the roads automatically safe for cyclists. May is national cycling month, but there is no reason you can't get a head start. There are a few things you should consider before heading out for your first ride of the season. 
Our Boston cycling accident attorneys offer these Spring Safe Cycling Tips for Boston Bicyclists. 
Give your Bike a Spring Tune-Up. Bicycles aren't motorized, of course, but that doesn't mean they don't require care and attention to work properly. Especially if you haven't ridden in a few months, you may not have realized there are issues that need to be addressed immediately. Dirt, grime and exposure to elements can result in wear-and-tear that can accelerate component wear out. Clean your bike. Inspect your brake system, or have a bike shop give it a once-over for you. Watch your wheels and check for rim problems such as scrapes, dents, nicks or other damage, as well as evidence of wobbling. Bear in mind if the rims are faulty, you will suffer inconsistent contact between the tires and the road surface. Finally check all your cables and chains to make sure they are tight and there are no cracks, rust, dirt or looseness. If your bicycle is defective or was improperly repaired and that defect or faulty repair plays a role in your crash, you may have cause for legal action against the manufacturer or bike shop.
Be Mindful That Drivers Aren't Expecting You. Of course, motorists owe a duty to watch for all traffic – including and perhaps especially vulnerable road users like cyclists. But that doesn't mean they will, and that's probably more true at the start of spring, when cyclists are just starting to be seen more commonly on the roads. That means it will be more important than ever for cyclists to remain alert, operate defensively and wear the appropriate reflective and protective gear.
Watch for Sand and Gravel in the Road. These elements accumulate on the roads after the city has treated them for ice and snow, and they can remain long after it gets warmer. For motorists, it's not a big deal. For bicyclists, it can cause a loss of stability and control.
Consider Joining a Bicycle Club. There are dozens listed on Massbike.org. There are safety benefits to riding in groups, and the more experience you have, the safer you will be when you do venture out on your own. Plus, it's great fun.
Teach Your Children Bicycle Safety. Bicycle riding is a fantastic way for kids to stay fit and active and enjoy the outdoors. But they have to be prepared for the situations they will encounter, especially if you will not be supervising them every second. That means always wearing a bicycle helmet and donning bright and/or reflective clothing. Children younger than 10 should generally be riding on the sidewalk. Those who will be on the road should first learn under strict adult supervision until you are confident they can handle themselves.
If you or a loved one are injured in a bike accident in Boston, contact our offices today to learn more about how we can help.
Call for a free and confidential appointment at 617-777-7777.
Additional Resources:
Bike Safety, KidsHealth.org
More Blog Entries:
East Boston Teen Dies After Being Hit by Car, March 1, 2016, Boston Bicycle Accident Lawyer Blog