Hurst v. Metropolitan Casualty Insurance Company
In Hurst v. Metropolitan Casualty Insurance Company, a case from the Supreme Court of Wyoming, two plaintiffs were ridding separate bicycles around noon.  One plaintiff was riding about 30 feet in front of the other, and they were both on the shoulder of the road and the emergency lane when one was present.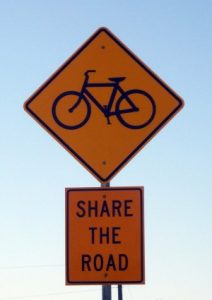 At this point, a woman driving a minivan at around 50 miles per hour when she veered into the breakdown lane where plaintiffs were riding. She hit the rear bicycle rider from behind and the rider flipped up onto the roof of the minivan.  He was then thrown over the back of the minivan and ended up hitting the ground nearly 2oo feet away. Defendant continued driving in the emergency lane and hit the other bicycle rider from behind. She got knocked under the grill of the minivan and got pushed by the vehicle until the van finally stopped.  She ended up draped over the hood of the minivan. The male rider who was hit first did not survive his injuries and was pronounced dead a short time after the fatal bike crash.  The other bike rider was severely injured and suffered a collapsed lung, pulmonary contusion, broken ribs, a thoracic fracture, and broken legs. Investigators found nothing wrong with the minivan mechanically, a clear and well maintained road surface and two bicycles in good condition.
Defendant did not have motor vehicle liability insurance. As our Boston bike crash injury lawyers can explain, it is sadly a common occurrence for people to drive without insurance, so we must often look for other avenues of recovery for plaintiffs following a serious or even fatal crash. While it is possible to attach any assets defendant may have, people who do not have liability insurance do not often have many assets. This is not always the case however, as some people lose their driving privileges due to repeated drunk driving convictions, but still have significant assets from which a judgement could be obtained.
Assuming the defendant did not have any other assets and did not have insurance, one source of potentially obtaining a full and appropriate financial recovery would be from plaintiff's own auto insurance policy.  When a person gets car insurance in the Commonwealth, they have an option of buying liability coverage at the state minimum which is $20,000 per personal injury per person and $40,000 for all personal injury in the entire accident. There is also a requirement to carry at least $5,000 in liability insurance for the damage of other's personal property. This is generally damage to plaintiff's vehicle.  Boston car accident lawyers would write this as 20/40/5 if the insurance policy was for the state minimum limits. Many people purchases far more than the state minimum and that is generally a good idea if you can afford it to protect your other assets.
While vehicle owners have a choice of purchasing more insurance, they are generally not offered a choice of purchasing uninsured motorist (UM) coverage.  The law requires that any driver with insurance have at least the state minimum in UM coverage. If a driver purchases more than the state minimum coverage in liability insurance, they will have up to their actual limits in UM coverage.  This mean if you have a policy or your $75,000 per injury and $150,000 per accident in personal injury and $50,000 in property damage of others (75/150/50), you have the same amount of UM coverage.  One could specifically disclaim the additional UM coverage, but that virtually never occurs.
The way this coverage works is that if you are in an accident where the at-fault driver either has no insurance or has less insurance than your actual damages, you can turn your own insurance policy to make up the difference between what you received in compensation and your actual losses.  It also doesn't matter if you were in the car that is insured at the time of the accident. Even if the car is parked on your street at home, anyone who lives in the household and is in the immediately family who is injured can claim a loss under the UM policy.  This is true if plaintiffs were on a bicycle at the time of the accident as well.
In Hurst, the plaintiffs; claimed UM coverage from their insurance carrier. They had a policy that had a limit of $300,000 per injury person and $300,000 per accident total. Normally, the per accident total is twice the per injury total, but that was not the case here. Plaintiffs argued they should each be awarded $300,000 for a total of $600,000 under a theory that it was not one, but separate accidents. First defendant hit the male rider and the 30 feet and about a few seconds later, she hit the second bike rider. The insurance company claimed it was the same accident and that the total loss compensated was to be $300,000 rather than $600,000.
The court concluded there was only a single accident and found there was a $300,000 limit. At this point, plaintiffs appealed and the court found that the lower court used the right standard to determine whether there was a single accident or two separate accidents, but that there were not enough facts in the record for the court to apply that test and make such a determination. The case was reversed and remanded so a greater factual record could be developed. This might mean the case would go do trial or  the judge could grant the motion for summary judgment as long as there were more facts on which to base that order.
If you or someone you love has been injured in a Boston bicycle accident, call for a free and confidential appointment at 617-777-7777.
Additional Resources:
Hurst v. Metropolitan Casualty Insurance Company, September 12, 2017, Wyoming Supreme Court
More Blog Entries:
Damages in Boston Bike Crash Lawsuits, July 8, 2017, Boston Bicycle Accident Attorney Blog