Boston bike crash victims of hit-and-run accidents face unique challenges in recovering damages.  While these cases are known as hit-and-run crashes, they are legally referred to as leaving the scene of a motor vehicle accident involving personal injury.  The issue is who will pay damages suffered by the plaintiff in the event he or she is injured by a hit-and-run driver who is not identified.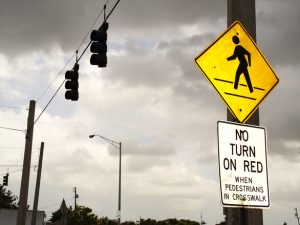 When you are riding on a bike on the streets of Boston, no matter how careful you may be, there is always a chance of being involved in a crash.  One of the main reasons for this is because there are too many drivers on the road who regularly act negligently with respect to bike riders and this can lead to serious personal injury. If the driver stays on the scene of the accident and does the responsible thing, even if they were negligent in causing the accident, this will allow for plaintiff to file a claim with the at-fault driver's insurance company, if the at-fault driver flees, things can get more complex.
Hit-And-Run Bike Accidents in Boston
As our Boston bike crash injury lawyers can explain, in some cases, police will be able to eventually find the driver who fled. In the case of a bike accident in which the plaintiff was seriously injured or killed, police will spend a lot more time and effort on finding the suspect.  This often includes putting a notice to all body shops to be on the lookout for a car with damage matching the suspect's description and it will also include checking with witnesses and examining surveillance footage from stores and traffic cameras.  If the at-fault driver is eventually caught, this can lead to an avenue of financial recovery.
Cases Where Driver is Never Found
In cases where the driver is never found, we are dealing with what is known as uninsured motorist or uninsured auto pursuant to the law in Massachusetts as discussed by the Commonwealth's Attorney General, Maura Healey. When a civil case is filed, they are often called John Doe or Jane Doe cases because the real name of the defendant is not known.
In these cases, since a driver is never found, they are treated much like a driver who was found, but does not have insurance to compensate a plaintiff for his or her injuries. The question is where does the money come from when suing a Jane Doe defendant.  The answer depends on whether plaintiff owns a car with a valid car insurance policy, or someone in their immediate household owns an insured vehicle.
In cases where plaintiff does not own a car, nor does anyone in their immediate household, it will be very difficult for the plaintiff to recover, and this is an unfortunate result, but it does happen in some cases.
If plaintiff does own a car, the car insurance on that policy has a competent for uninsured motorist coverage if the policy was sold in Massachusetts or many other states. This means  your own insurance company is responsible for paying for damages caused by an uninsured motorist, including a hit-and-run driver, up to your policy limits. However, just because they are supposed to pay does not mean they will pay without a fight so it is best to speak with an experienced Boston bike accident lawyer as soon as possible.
One thing to keep in mind is you do not necessarily have to be in an insured vehicle at the time of the accident to qualify for uninsured motorist proceeds. Even if you were on a bike at the time of the crash and the car was sitting in front of your spouse's office, the policy will likely still apply to your hit-and-run bike accident, though this  is something about which you should speak with an experienced Boston bike accident lawyer.
Obtaining Bike-Only Insurance
Because many people who bike these days do not own motor vehicles and do not participate in what is often referred to as "car culture," it may be worth getting a bike only insurance policy.  These policies are often much more affordable than traditional car insurance and are certainly worth looking into. One of the reasons it tends to be cheaper for bike only insurance is that it is harder for a bike rider to do significant damage to other cars.  This does not mean it is impossible as a negligent rider can cause cars to take evasive action thus resulting in a serious collision, but a direct impact of a bike with a car will not typically be devastating to the vehicle or its occupants.
Technology to Assist Hit-and-Run Bike Accident Victims in Boston
One of the biggest fears when riding a bike is that you will be seriously injured and there will be nobody around to offer assistance or call 911 to summon first-responders.  If the accident involves a hit-and-run driver, this is much more likely to happen.
According to a recent news article from The Verge, one company is developing a smart light for use on the back of one's helmet. This light can sense when a bike rider is making a turn and automatically signal other cars. This is only one of the many features including a system for alerting friends and family if you are in trouble.  The system can provide the exact location of the rider in distress using GPS and an included-app.
This system can be activated manually using a smart phone, pushing a button on the handlebars, and it can supposedly sense when the rider has fallen off the bike so the rider is not required to be conscious to alert designated people of a potential problem.  This project is still in development by the startup company that created it, but it is only one of many new products that are designed to make riding alone safer.  This product was first designed for motorcycles and is now being adapted for use on bicycles.
Although these technologies can help improve your chances of receiving prompt medical attention, it won't necessarily help you stop or identify a hit-and-run driver. Still, there may be other ways to achieve this, with careful, thorough investigation by an experienced bike accident attorney.
If you or someone you love has been injured in a Boston bicycle accident (we prefer the term "bike crash"), call for a free and confidential appointment at 617-777-7777.
Additional Resources:
More Blog Entries: