Many in Boston have dedicated themselves to a healthier lifestyle in 2016, and for some, that means participating in a cycling routine. That can involve commuting to work by bike at least a few days a week or it can mean simply taking one out for recreation on the weekends.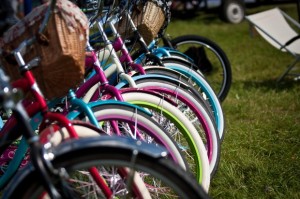 Boston bicycle ridership has grown exponentially since 2007, when former Mayor Thomas Menino launched Boston Bikes. With more than 60,000 bicycle trips made just within the Hubway share ridership program annually (and more than 1.5 million since the program was launched) the city has vowed to slash the cycling injury rate by half by 2020. The 30-year Bike Network Plan involves construction of 356 miles of bike facilities in the city, and the city is continuing to dedicate resources to renovating existing roads under the "Complete Streets" model.
In a recent three-year span, the city reported 1,700 confirmed bicycle accidents to which Boston emergency medical technicians responded. Another survey by Boston Bikes indicated there were more than 2,550 crashes that occurred during that time.
As cycling grows in popularity, it becomes incumbent on all of us to work toward a safer environment for cyclists. That often begins with the cyclist, and the outset of a new year is a good time to get started.
While it's true the majority of injurious and fatal bicycle accidents in Boston involve a car (and are mostly caused by drivers), defensive riding by cyclists can help to prevent or at least minimize injuries.
One of the first things for new cyclists to understand about biking in Boston is that the law considers you a "vehicle," which means you are afforded all the same rights – and responsibilities – as any car or truck on the road.
Per Mass. Gen. Law Ch. 85, Section 11B, you have the right to:
Ride your bicycle on any public road, street or bikeway (except certain express state highways, which will have signs prohibiting it);
Ride on sidewalks outside of business districts;
Pass cars on the right.
You also have a responsibility to:
Obey all traffic laws;
Use hand signals to let people know when you're going to stop or turn;
Give pedestrians the right-of-way;
Keep one hand on the handlebars at all times;
Equip your bicycle with a white headlight and red taillight if you're are riding after dusk or before dawn;
Wear ankle reflectors if there are no reflectors on your pedals (at night);
Notify the police of any accident that involves injury or property damage in excess of $100.
The Boston Safe Cycling Report has indicated the top causes of bicycle accidents in the city are:
Running a light/ stop sign;
Cyclist/ driver didn't see the other;
Vehicle door extended ("dooring");
Cyclist rode into oncoming traffic;
Vehicle is speeding;
Driver/ cyclist not paying attention;
Driver exhibiting aggressive behavior;
Driver distracted by phone/ electronics.
So cyclist behaviors sometimes do play a role in causing crashes. Where that is the case, riders can sometimes still pursue damages against motor vehicle drivers and/or the city (for having defective road design and/or maintenance), though Mass. Gen. Law Ch. 231, Section 85 comparative negligence statute states the award will be reduced by plaintiff's own percentage of shared fault.
It's also worth noting that while bicycle helmets are not required for riders over age 16, they are a good idea. The city reports that while 28 percent of cyclists in Boston don't wear a helmet, they account for 52 percent of those who are injured in bicycle accidents. They are required for Hubway riders, and they should be considered an essential piece of equipment for any rider.
If you are the victim of Massachusetts bicycle accident, call Jeffrey Glassman Injury Lawyers for a free and confidential appointment — 617-777-7777.
Additional Resources:
Boston Cyclist Safety Report 2013, City of Boston
More Blog Entries:
An Interview with a Woman the Year After a Serious Massachusetts Bike Accident, Oct. 19, 2015, Boston Bicycle Accident Lawyer Blog