An Act to Reduce Traffic Fatalities, a broad and sweeping bill directed at improving bicyclist safety in Massachusetts has survived its latest hurdle in the State House but now needs your support.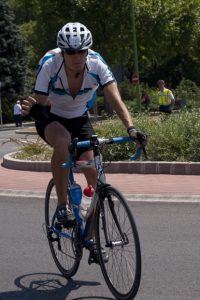 The bill, S.1905 and H.2877, covers a comprehensive range of critical traffic safety issues, including several pertaining directly to the rights and safety of bicyclists in Boston and across the Commonwealth.
The bill includes provisions relating to bike path crossing, a pet project of our own BikeAttorney.com attorney Andrew Fischer, a three-foot law and increased fines for double parking in bike lanes. Each section addresses current hazards cyclists face and impediments to damage recovery from negligent motorists.
Several elements of the bill have been floated in some form or another during prior legislative sessions. These efforts always stalled, typically an unfortunate victim of warring political interests. This bill presents a vital opportunity to protect Massachusetts bicyclists in a comprehensive manner, underscore their rights on the road and allow meaningful recourse against those who disregard their lives.
The Act (which we also credit in large part to the efforts of state and local Vision Zero coalitions and cycling advocacy groups like MassBike) would help reduce overall traffic deaths in the Commonwealth through a host of changes, including:
Amending the state's texting-and-driving law;
Improving signage for bicyclists and pedestrians;
Requiring side guards on trucks contracted with the state;
Raising awareness of drowsy driving;
Introducing a traffic safety curriculum in public schools.
State senators and representatives need to hear from constituents that now is the time to act. The deadline for legislative action was extended, meaning voters have from now until March 2nd to contact their lawmakers and voice support for S.1905 and H.2877.
Bike Path Crossing
A key element of the bill gives cyclists greater protection in crosswalks at bike path crossings. This is something Boston Bike Attorney Andrew Fischer has been fighting to see this happen for years. Fischer filed the original version, which has been revised and refiled several times since its original filing. The current omnibus bill is perhaps the best chance we've had for the bike crossing bill, as a package with other safety measures.
Here is the issue: Picture a bicyclist traversing a bike path and encountering a white-striped crosswalk across a public road. Naturally, the cyclist would assume that by staying within those white crosswalk lines, motorists would be required to yield. Not so. Current Massachusetts law protects only pedestrians crossing in these crosswalks. Fischer and other bike safety proponents have lobbied intensely to add the phrase "and cyclist" to the existing statute, which would give bicyclists the same protection as pedestrians. Although the exact wording has been slightly altered in the new bill, it ultimately still achieves this same end.
Fischer has handled numerous bicycle injury lawsuits under these circumstances – four involving the same southwest corridor bike path in Jamaica Plains, crossing at Cedar Street. Drivers going to the VA Boston Healthcare System campus often turn onto Cedar Street to avoid the Heath Street intersection. In each of the cases Fischer took on, bicyclists were struck by motorists speeding through the cut-through (some running red lights) and who failed to yield to bicyclists in the marked crosswalk. As skilled bike injury attorneys, we are often still able to successfully obtain compensation for our clients in these cases, but the current law sets the stage for an uphill battle. It creates a presumption the cyclist – a vulnerable road user – must overcome: That the driver had no duty to yield to a cyclist in the crosswalk. The presumption should be the other way around: that the default be that the driver, protected by 2,000 pounds of steel, should be presumed responsible if he/she strikes a vulnerable road user, whether on foot or on a bike.
The proposed bike path crossing portion of the bill – specifically an amendment of MGL Chapter 89 Section 11 – would change this, giving cyclists in crosswalks substantive protection. It would also forbid drivers from passing another vehicle whose driver has stopped to permit a bicyclist the right-of-way in a crosswalk.
Three-Foot Law
Massachusetts lags behind other states in requiring motorists to maintain a set minimum distance from cyclists they pass. The standard "safe passing law" in many other states mandates drivers keep at least three feet of distance from cyclists. Twenty-seven states have adopted some form of safe passing law as of January 2018, according to the National Conference of State Legislatures. Traffic safety experts recommend a minimum of 3 feet to avoid vehicles sideswiping bicyclists or causing the rider to over-correct to avoid a vehicle.
MGL Chapter 89 Section 2 states if it isn't possible for a motorist to overtake a bicycle "at a safe distance" in the same lane, the overtaking vehicle must use all or part of the adjacent lane to pass (if it's safe to do so) or else wait for a safe opportunity.
Opponents of the three-foot rule argue existing law is sufficient. Some doubt enforcement is possible. Others say 3 feet isn't far enough. We say: It's a good start. It establishes a legal framework to protect cyclists who are struck or buzzed from behind, creating a less arbitrary legal standard and also boosting public awareness of the need to use caution when passing bicyclists.
Increased Fines for Double Parking in Bike Lanes
Double parking in bicycle lanes is a pervasive and very serious problem, especially in urban areas like Boston. Motorists have this tendency all too often to "stand" or park in lanes designated for bicyclists. This is so incredibly dangerous for cyclists because it forces them into the flow of traffic to avoid slamming into the vehicle in their path.
Many drivers have long behaved as if bike lanes can be arbitrarily disregarded. It's an extension of the stubborn (and very wrong) belief that people on two wheels are somehow less entitled to the road. But even a "quick" stop in a bike lane can have catastrophic outcomes for bicyclists.
Last year, the Massachusetts "Bike Lane Bill" passed in January 2017, finally rendering it fine-able offense for drivers to "stand" (sit in a parked car) or leave a vehicle unattended in a bicycle lane. The law sets a $50 fine per violation (still not considered a moving violation or worthy of points on one's driver's license). Individual cities, towns and police departments have discretion on enforcement.
The new bill would increase fines for double-parking in bike lanes.
Urge Massachusetts Lawmakers to Protect Bicyclists!
An Act to Reduce Traffic Fatalities, S.1905 and H.2877, needs your support. Contact your representatives and state senators. Tell them you support bicyclists and safer roads in Massachusetts and encourage them to approve this bill.
Search for lawmakers in your district using the Find My Legislator feature on the Commonwealth's website.
If you have a chance, consider also sending a message to Rep. William Straus and Sen. Joseph Boncore, both chairpersons on the Joint Committee on Transportation.
The team at BikeAttorney.com and The Law Offices of Jeffrey Glassman is leading the fight among the plaintiffs' bar to speak out and advocate for Vision Zero and measures like this because they help improve road safety for everyone.
If you or someone you love has been injured in a Boston bicycle accident (we prefer the term "bike crash"), call for a free and confidential appointment at 617-777-7777.
Additional Resources:
An Act to reduce traffic fatalities, Feb. 2, 2018, Massachusetts Legislature
More Blog Entries:
Seeking Justice for Dr. Kurmann and Better Safety for All Boston Cyclists, Jan. 25, 2018, Boston Bike Accident Attorney Blog