Our Boston bicycle accident lawyers are not just attorneys – we are avid riders ourselves. We are committed to advocacy that makes Boston streets safer for cyclists, and have been on the forefront of some of the state's most important legislation to protect cyclists. This in-depth knowledge of these statutes is what allows us to provide such strong representation for our clients. We also support others' efforts to promote safe cycling and better driver awareness of rider presence and rights.
A recent news article from the Park Record discusses how middle school student who was in a serious bike crash now is dedicated to bike safety and has even given a seminar on the subject at this school.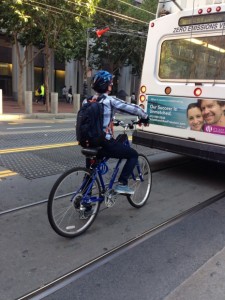 After donning his helmet, he was riding a bike that day because the city had urged residents to do whatever they could to keep cars off the road during rush hour and riding a bicycle is one good way to do that. He was riding with some other friends who fallen behind.  Whey the caught up with him, they found him lying on the ground on top of another bike rider with whom he collided.
He was seriously injured in the bike crash and rushed to a local level one trauma center. For the next 14 days, he was in critical condition and doctors and his family did not whether the would survive.  He was at the children's hospital where he was on a ventilator until doctors were able to stabilize him and get him breathing on his own again.  Now doctors think he will make a full recovery and he may soon be able to return to school part-time in addition to his work handling the bike safety seminar.
Helmets Can Help
While a helmet can certainly help, and it is always a good idea to wear one, as Boston bike crash lawyers have seen over the years, there are many  cases where bike riders were wearing a helmet in the crash and they were still seriously injured or killed.  A bike helmet is designed to help when a bike rider falls and hits the ground, they are not rated to stop injury when a person is hit by a car in every case.  There are many cases where plaintiff is wearing a helmet and using all required safety gear, even some that is not required, and still suffers a serious personal injury, including an open head wound.
There is also the risk of closed head wound.  When a person suffers and impact to the head, even when wearing a helmet, or even suffers from whiplash, the brain can slam into the inside of the scull and a layer of tissue known as the sub-dura. The brain is suspended in a fluid and can move slightly back and forth.  When it slams into the inside of plaintiff's skull, it can cause a bruise known as a concussion.  The subdural bleeding increase the pressure on the brain, and this can lead to a traumatic brain injury (TBI).  Anyone who has suffered a head injury, open or closed, should be given medical attention to determine if plaintiff has been concussed, and plaintiff should be given medical treatment.
Importance of Medical Help
Many times following a Boston bike crash, the police will call for medical personal from the fire department and an EMTs will offer to examine the plaintiff and take him or her to the hospital if necessary. Many plaintiffs will think their injuries are not serious enough to warrant an ambulance ride and plan to go the hospital the following day if the pain gets worse.  While doing this is common, it doesn't mean plaintiff can not have a successful outcome in a Boston bike crash lawsuit, or obtain a fair and appropriate settlement, but is generally not a good idea to decline medical attention.
Going to the ambulance will serve several purposes.  First, it will insure that plaintiff gets any necessary medical attention.  There have been many cases where the extent of the injury is not immediately apparent without an MRI or CT scan, and waiting may not be a safe course of action. Another reason it is good to take any offered ambulance ride to the emergency room is that it creates a record of plaintiff's injury that may be helpful in personal injury cases.  When there is on question that defendant driver is at-fault in a Boston area bike crash, there may still be fight over damages.  Defendant's insurance company will agree that they are liable, but will argue that the demanded damages are excessive or that the injuries were not the result of the bike crash in this case.  If plaintiff takes that ride to the hospital and doctors perform an evaluation and any necessary treatment, including taking a statement of all pain and symptoms, this will be very helpful in plaintiff's attorneys' settlement negotiations or at trial should the cause actually go to trial.  Again, this doesn't mean that if plaintiff declined immediate medical attention that plaintiff does not have a valid personal injury claim so you should speak an experienced attorney during your free initial consultation.
In some cases where there is no dispute over liability, and a settlement can not be reached, there may be the need for a trial, but it can be what is known as a damages only trial so the jury is already told defendant is responsible.  The court will generally not want to waste time with facts that are not in dispute such as liability in a Boston bike or car accident lawsuit.
If you or someone you love has been injured in a Boston bicycle accident, call for a free and confidential appointment at 617-777-7777.
Additional Resources:
A Colorado middle schooler's bike accident serves as a safety lesson, September 28, 2017, By John Stroud, Park Record
More Blog Entries:
Damages in Boston Bike Crash Lawsuits, July 8, 2017, Boston Bicycle Accident Attorney Blog