A new omnibus bill before Massachusetts lawmakers could have a profound impact on bicyclists' rights and legal protections in Boston. Our injury lawyers in Boston have been long-time members and advocates of the cycling community (long before we were attorneys). We recognize the impact An Act to Reduce Traffic Fatalities (Senate Bill 1905, House Bill 2877) could have.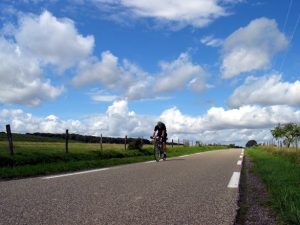 Among the many provisions is one our own Attorney Andrew Fischer has personally fought for in the past. It involves the rights of bicyclists in crosswalks.
"There is a mythology that a bicyclist is protected in a crosswalk," Fischer said. "In fact, that is not Massachusetts law. If you look at the section that deals with crosswalks, it says 'Motorists shall yield to a pedestrian in the crosswalk.' The omission of 'bicyclist' is a glaring one." 
Years ago, Fischer – who has personally written numerous pieces of important bicycle legislation in Massachusetts – took up this cause as well. He proposed adding the word, "and bicyclist." However, he met with some resistance, and the measure failed to gain traction for several years. Now, with this new proposal, that could change.
If the bill is passed as written, it would require motor vehicles to yield to a bicyclist at an intersection of a bicycle path and a road, so long as that crossing is marked.
Ensuring cyclists have this important protection is not only important for their own safety, but also for their odds of prevailing in a personal injury claim if they are struck. Bicycle injuries can be extremely costly because a person on a bike has no protection (aside from maybe a helmet) from direct impact with the vehicle, the pavement and other objects.
Other elements this omnibus bill will address:
Requiring that trucks owned or contracted by the state come standard with sideguards between the wheels in front and back. This reduces the odds a cyclist or pedestrian will fall underneath if they are struck.
Requiring mirrors that help truck drivers better see bicyclists and pedestrians.
Reducing the speed limit from 30 mph to 25 mph on state highways and also on parkways that are thickly settled in business districts.
Requiring cars to give bicyclists, pedestrians and other vulnerable road users at least three feet of clearance when passing, plus another 1 foot for every 10 mph over 30 mph of the street.
Extending permission to towns and cities to use automatic cameras that capture road safety violations and through which vehicle owners may be fined for speeding, running a red light and right turn violations. Such cameras can also be affixed on school buses, and 80 percent of collected revenue on maximum $50 fines would go toward improvements of local roads.
Clarification of a technical change stipulating that bicyclists may pass to the right of a vehicle whenever the vehicle is operated in a travel lane.
Mandating new guidelines for bicycle and pedestrian signage.
Requirement of a standard reporting tool when a police officer, EMT or paramedic is called to the scene of a bicycle crash or pedestrian crash.
"As we have more riders, we have more bike crashes, and there is more of a need for bicycle safety," Fischer said. "Additionally, as there are more riders on the road, we need more bicycle facilities. Thirty years ago, no one considered much how cars and bicycles interacted at intersections in urban settings. Now, we encourage not just hardcore cyclists but everyone. If we're serious about that, we need to create safe spaces for them, and we need the laws to catch up."
If you or someone you love has been injured in a Boston bicycle accident, call for a free and confidential appointment at 617-777-7777.
Additional Resources:
An Act to Reduce Traffic Fatalities (Senate Bill 1905, House Bill 2877)
Additional Resources:
Summer is a Dangerous Time for Kids and Bike Crashes, April 25, 2017, Bicycle Injury Lawyer Blog