In an effort to highlight the varying challenges and issues that face commuters of all walks – and rides – of life, advocacy group MassBike hosted its fourth annual, "Boston-to-Somerville Rush Hour Challenge," (previously known as the "Rush Hour Race").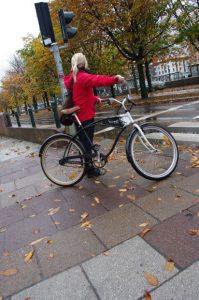 Seven different commuters were challenged to see who could be fastest to get from the MassDOT headquarters in downtown Boston to Davis Square in Somerville. The challenge involved three bicyclists – one on an electric bike, one on a Hubway bike and one on a personal bicycle), an MBTA "The T" passenger, a runner, a walker and someone who drove their own vehicle.
The winner? The electric bicycle rider, who was first to cross the finish line in just 28 minutes. Meanwhile, the driver of the car came in sixth place – just ahead of the person walking the route. It took the car driver 40 minutes to reach the finish line. 
In previous races, cyclists won twice and a T passenger won once. The operator of the car said he normally takes the T to work, but this challenge taught him how stressful it can be to venture out in Boston rush hour in a car.
The point of the challenge is not so much the race itself, but rather to highlight the different obstacles that our fellow commuters face every day navigating through the crowded streets and thoroughfares of Boston and the surrounding regions. Participants had other parties shadowing them and updating each person's progress on Twitter. The Twitter updates were read allowed by an announcer at Redbones restaurant, which was the end point of the race.
Events like this are important, especially as alternatives to motor vehicle transportation have been on the rise, yet we continue to see hostility expressed toward those on bicycles and traveling by foot. Organizers want to highlight some of the potential problem areas and ensure the city is working to ensure accommodation of all travelers – no matter what their preferred mode of transportation.
The City of Boston has committed to Vision Zero, which vows to reduce the traffic fatality and serious injury rate in the city to none by 2030. This goal is not going to be without its challenges when we consider the recent report just released by A Better City, a non-profit group that predicts Boston is going to see an uptick of 80,000 cars, trucks and tractor-trailers by 2030, as well as a 5 percent increase in overall highway use as compared to 2010.
That report also indicated the T would need $7 billion in improvements to reach a "state of good repair." Beyond that, MassDOT reports nearly 40 percent of the roads owned by the state are in what is considered "poor" or "fair condition." If maintenance plods along at the same rate it has been, then 75 percent of the city's roads will be in either poor or fair condition by 2025. Also 11 percent of bridges in Greater Boston are considered "deficient," and about 20 percent restrict commercial vehicle use.
Heavy congestion is so bad during Boston's rush hour that peak speeds are below 25 and 20 mph on many roads, including the interstate.
All of this makes biking an attractive option – assuming it's safe. This exercise highlights why reducing Boston bicycle accidents can help reduce congestion. When we make cycling safer, more people will want to do it and that in turn makes the roads safer for everyone.
If you or someone you love has been injured in a Boston bicycle accident, call for a free and confidential appointment at 617-777-7777.
Additional Resources:
The car did not fare well in yesterday's Boston-to-Somerville Rush Hour Challenge, June 7, 2016, By Sanjay Salomon, Boston.com
More Blog Entries:
Study Explores How Bicycle Helmets Would Have Protected Crash Victims' Brains, April 15, 2016, Boston Bicycle Accident Lawyer Blog