Should new bike lanes be added to Massachusetts Avenue?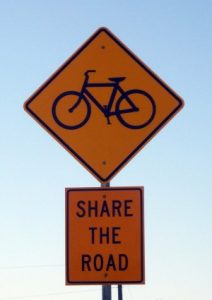 The question has sparked a heated debate, as many fear that the precious few parking spaces that exist along the road will evaporate if we prioritize pedalcyclists.
But bike safety advocates say it's simple: "Save Lives, Not Parking."
Massachusetts Avenue has seen more fatal crashes than anywhere else in the city, and bicycle accidents are a top concern. The city has vowed to be create a more bike-friendly atmosphere, and that means making sure that bicyclists are safe to ride where it's legal for them to do so. That's the driving force behind the initiative to install protected bike lanes along Mass. Ave. That's going to mean posts being installed between car lanes and cyclist lanes. 
However, local business owners have expressed ire for the plan, saying it will drive away potential customers who won't have any place to park. A hotel owner who operates his business at the corner of Mass. Ave and Commonwealth Ave. says it's not that he is necessarily opposed to the bike lanes, but the issue is that it "creates unforeseen problems" – namely, less parking for his customers. Specifically, the current bike lane plan will result in the elimination of 18 legal parking spaces and six illegal spaces. That is out of approximately almost 345 parking spaces that are available from Mass. Ave. to Harrison Ave. Business owners say parking is insanely difficult as it is.
But this effect has to be weighed with the deadly toll that a lack of planning on this street has had on cyclists. At a recent meeting on the issue, one South End resident said he pleaded with the city two years ago to consider altering certain elements of the street after he was struck by a vehicle at the intersection of Beacon Street and Mass. Ave. The city didn't take action. Then, a year later, at that very same intersection, a 38-year-old cyclist was struck and killed by a tractor-trailer driver. The South End resident said if the city had moved on making changes sooner, that cyclist would still be here.
Now, transportation officials with the city say protected bike lanes are imminent. They will be installed on the southbound side of Mass. Ave. from Beacon Street down to St. Stephen Street. Protected bike lanes are also going to be installed on the opposing northbound side from Boylston Street almost to Huntington Avenue. The project is expected to be completed before the close of 2016, according to The Boston Globe. The project is part of the Vision Zero commitment that strives for the elimination of traffic fatalities in Boston – including those resulting from bicycle accidents and pedestrian accidents.
Bike safety advocates say the protected bike lanes are a good start, but they hope they can be expanded. For example, Becca Wilson of the Boston Cyclists Union told a Globe reporter she wishes the bike lanes would have stretched further down Mass. Ave. The city has said it will consider doing so maybe next year.
These protected bike lanes are only being considered at this point where the most dangerous sections of the city for bikers and pedestrians have been identified.
In addition to the installation of these bike lanes, other changes to Mass. Avenue including altering the timing of traffic signals so that pedestrians will have more time to cross busy intersections. Crosswalks will also be painted with a more vibrant hue and there will be more restrictions on right turns at red lights. City officials are also working toward lowering the default speed limit to 25 mph, as opposed to what it is now, which is 30 mph.
If you or someone you love has been injured in a Boston bicycle accident, call for a free and confidential appointment at 617-777-7777.
Additional Resources:
Safety, parking concerns clash in Mass. Ave. bike lane debate, June 16, 2016, By Nicole Dungca, The Boston Globe
More Blog Entries:
Boston Bike Accident Lawyers Advocate for More Bike Lanes, May 14, 2016, Boston Bike Accident Lawyer Blog