It's been more than a century since massive crowds gathered in Madison Square Garden to witness, "The Fastest Bicycle Rider in the World." He was perhaps better known as, "the Worcester Whirlwind." His defiance of Jim Crow segregation in the sport drummed up headlines and publicity, but his performance that year made history. Marshall "Major" Taylor became a world champion bicycle racer.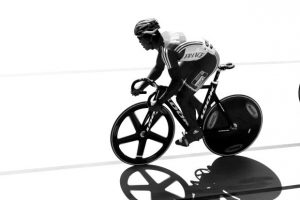 He was the first African American world champion – and this was years before Jack Johnson, also a black man, became the heavyweight champion of the world in 1908 and nearly a half a century before Jackie Robinson was integrated into baseball.
To honor his history, strife and contributions to the sport of cycling and society at-large, a number of Major Taylor birthday rides are being hosted throughout the country. Taylor was born on Nov. 26, 1878. This year, rides are being held on that day in:
Los Angeles;
San Diego
Chicago
Pittsburgh
Worcester County (Massachusetts)
Oakland, CA
Indianapolis
All this has been part of an ongoing, concerted effort not to allow Major Taylor's memory to be lost in light of such remarkable accomplishments.
Although he was born and raised in Indianapolis, In., he later moved to Worcester, MA, which he found to be a much more welcoming city. For example, while he was not allowed to join the YMCA in Indiana, officials in Worcester did allow him to sign up. This gave him an opportunity to improve his upper body strength. In Indianapolis, after breaking two world track records, he was banned from the track (he'd apparently offended white "sensibilities").
As he rose to prominence, he met numerous roadblocks. Race promoters in the south refused to let him enter competitions. Other riders – all whites – were hostile and sometimes threatened and even assaulted him. One time, a competitor yanked him off his bike mid-race and proceeded to choke him to the point of unconsciousness. While the media of the time largely condemned this treatment, there were a few articles that characterized white riders' rage as "understandable," given the fact that his success was evidence of failure to stay in his rightful place.
But Taylor endured. He set a 1-mile record in 1898 when he was just 19. He won the world championship in Montreal the following year.
Still, racism trailed him everywhere. When he purchased a home in the Columbus Park neighborhood of Worcester, his neighbors tried to force him out and, when that didn't work, attempted to buy back the home from him. He refused.
In 1901, he raced in France – and beat out all the European competitors. He raced for two years in Australia, and then returned to the U.S. before retiring in 1910 at the age of 32. From there, he found nominal success in business, but then a series of debts and illnesses resulted in a lost fortune. He moved to Illinois, where he died in a charity ward at the age of 53.
Attempting to revive his memory has been an ongoing effort for the Major Taylor Association, Inc. At the Worcester Public Library, there is a 10-foot-by-12-foot statue that serves as a tribute.
Just last month, the organization announced the Major Taylor Century, co-presented by the Seven Hills Wheelmen as part of the Gran Fondo New England, where more than 120 riders followed non-competitive routes on paved roads through New England. A portion of those proceeds benefited the Major Taylor Association.
There was also a giant, 23-foot banner erected on the side of Casey Storage Solutions on McKeon Road, featuring Taylor, among other local greats.
Jason & Fischer (BikeAttorney.com) supported the "classic" design jersey sold by the Major Taylor Association and designed by a member of the Major Taylor Cycling Club of NY/NJ. The jersey features a photo taken of Taylor in 1900 in Boston. The sleeves feature an image of the Major Taylor Boulevard street sign, as seen in Worcester, as well as Taylor's best-known moniker, "The Worcester Whirlwind."
If you or someone you love has been injured in a Boston bicycle accident, call for a free and confidential appointment at 617-777-7777.
Additional Resources:
Major Taylor Birthday Rides, November 2016, Major Taylor Association, Inc.
More Blog Entries:
Major Taylor Banner Honors Worcester Cycling Legend Ahead of Gran Fondo Race, Sept. 27, 2016, Boston Bicycle Accident Lawyer Blog