World Day of Remembrance for Road Traffic Victims, held on the third Sunday of November each year, had special significance for us at BikeAttorneys.com this year.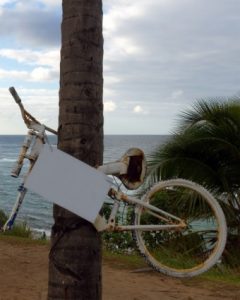 That's because last year, in October 2015, a former client and talented musician, David Tasgal, was killed when he was struck by a pickup truck while bicycling near his home in Greenfield, Massachusetts. Tasgal, a gifted and accomplished musician on numerous instruments and a beloved teacher of music, was killed in the bicycle accident at the age of 72. 
On November 20th, human-shaped silhouettes were installed throughout Boston and carried along the memorial ride, representing the lives of those lost too soon to traffic crashes. Each of these deaths – including Tasgal's – was 100 percent preventable. In each case, it is the negligence and general carelessness by motorists that results in needless, tragedies like this one. 
Bike Injury Attorney Andrew Fischer was present in the streets of Boston as well, carrying a silhouette bearing Tasgal's name, along with the hashtag, #crashnotaccident. This is a commentary on the fact that while so often these cases are characterized as "accidents," the reality is they are not inevitable. Someone was careless. Someone should have been more cautious. Most often in crashes involving bicyclists, it's the driver of the car who failed yield, failed to keep a watchful eye or was traveling too fast to allow them to avoid a collision. 
Another common refrain was to, "Drop the A-word," with the idea being that our choices matter, which means the words we use to frame the conversation do as well. 
Other hashtags born by similar figures included #SpeedKills and #SpeedMatters.
World Day of Remembrance events were held in cities across the globe, including Boston, New York City, Los Angeles, San Francisco and many more. The event here in Boston, in which dozens rode bicycles from Copley Square to various locations in the city and suburbs where bicyclists have been killed. Riders then finished their ride at Boston Common, where there was a memorial walk through the park, up to the steps of the Massachusetts State House. Participants then engaged in a vigil and rally, with several speakers promoting the "Vision Zero" initiative that involves a series of strategies to reduce the number of traffic fatalities to zero. 
As organizers of the local memorial event explained, this is all part of the effort to raise awareness of the fact that these incidents are not inevitable and we do have the ability – and the duty – to obey the traffic laws and pay attention to our surroundings on the road.
Each one of these bicycle deaths and other traffic fatalities represents an irreplaceable loss. It's also a reminder that we must do all we can to reduce the risk that others will suffer in the same needless way.
Tasgal's death reverberated not just among his family, including his wife and stepson, but all throughout the music community. He could play a vast array of musical pieces from memory and was a member of the Windham Orchestra. He also taught children at various schools and music centers.
If you or someone you love has been injured in a Boston bicycle crash, call for a free and confidential appointment at 617-777-7777.
Additional Resources:
Remembering David Tasgal, March 2, 2016, By Trish Crapo, The Recorder
More Blog Entries:
Major Taylor Birthday Rides Honor Black Cycling Champion, American Hero, Nov. 16, 2016, Boston Bike Injury Lawyer Blog