It's one of those cases where simply no amount of money is going to alter the circumstances or make it right. Still, it's an action that matters for one Illinois man and his five children, who lost the woman who had been the center of their family. It's particularly important for the two youngest children, who both have special needs and had relied on their mother to ensure their daily n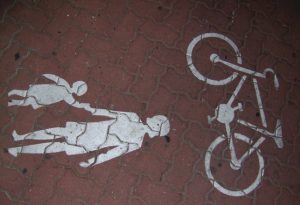 eeds were met.
Now, local media reports, decedent's widower has filed a wrongful death lawsuit against the sport utility vehicle driver who struck his wife, who was on a bicycle in a crosswalk, last summer. Plaintiff and his children gave emotional testimony in October when a county judge issued a $150 fine to the driver of that SUV in connection with the crash for failure to yield to a pedestrian in a crosswalk and failure to reduce speed to avoid an accident. The penalty was pittance compared to the magnitude of the losses suffered by the family, and their attorney noted it was important for the driver to hear from them about what her carelessness had caused.
An attorney for the driver explained her client was deeply shaken by the crash, and has been unable to return to work. Remorse can be healing, but it doesn't ease the burden now borne by the family, particularly with regard to the care of the two youngest children with special needs. 
With this wrongful death lawsuit, plaintiff, as representative of his late wife's estate, asserts defendant driver carelessly and negligently operated her sport utility vehicle while failing to use reasonable care to lookout ahead for other traffic or pedestrians attempting to cross. Plaintiff seeks compensation for the resulting medical, funeral and burial expenses, as well as compensation for the family's grief, sorrow and mental suffering.
Although this bike crash occurred in Illinois, it has something in common with many bicycle accidents in Boston, and that is that they are more often than not caused by the negligence of a motor vehicle driver. Many drivers fail to recognize or respect that people on bicycles have just as much right to the road as people in cars, and many motorists are even antagonistic toward cyclists. Most of these collisions also occur at intersections, often where the driver of the vehicle fails to yield. They are either distracted or fail to check their site mirrors before changing lanes or stop completely and look both ways before proceeding.
Those on bikes do not have reinforced frames to protect occupants and they lack other safety features to protect riders from serious injury.
In such cases, there are a number of avenues from which victims or loved ones can pursue compensation. There is, as in this case, the possibility of pursuing legal action against the at-fault driver. In most situations, the damages awarded will be paid by the driver's auto insurance company. If, as in the case of a death, that insurance policy isn't enough to cover the damages or if the driver doesn't have insurance, plaintiffs may file a claim with their uninsured/ underinsured motorist coverage carrier. This coverage will extend to the person on a bicycle who was struck by a motor vehicle, even though he or she wasn't actually in one.
Your Boston bike attorney can discuss more with you the full spectrum of your legal options.
If you or someone you love has been injured in a Boston bicycle accident, call for a free and confidential appointment at 617-777-7777.
Additional Resources:
Husband of woman killed in bike accident files lawsuit, Jan. 18, 2017, By Karen Ann Cullotta, Chicago Tribune
More Blog Entries:
Major Taylor Birthday Rides Honor Black Cycling Champion, American Hero, Nov. 16, 2017, Boston Bike Accident Lawyer Blog