UPS is piloting a new electronic bicycle delivery program in Seattle – one of the nation's most traffic-congested cities – a move Boston Bike Attorneys realize could ultimately drive down carbon emissions, expedite package delivery, encourage better biking infrastructure and make the community safer for cyclists. UPS is one of an increasing number of on-demand delivery services that has seen a boom as a result of proliferation of e-commerce behemoths like Amazon. The success of cargo e-bikes over the next year will be measured by a collaboration between the Supply Chain Transportation and Logistics Center and the University of Washington's Urban Freight Lab, which has sectors that specialize in environmental and civil engineering.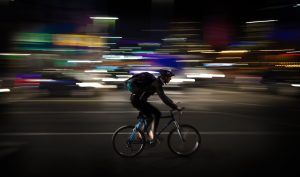 City officials say they are looking forward to learning the results of the study, given the mass of large trucks that clog the city's center. It's not the delivery giant's first foray into e-bike deliveries. The company has reportedly already begun testing e-bike delivery programs in 30 cities worldwide, including Portland, Oregon in 2016. Those tests involved the use of tricycles that were electronically-assisted, a wagon situated over the back two wheels holding the packages. Obviously these vehicles aren't able to carry the same number of packages as the over-sized brown trucks that barrel through the streets every day. However, they are safer for other road users and do less damage to the already-taxed and aging infrastructures in so many cities (particularly in older cities like Boston).
The pilot bicycle delivery test in Seattle, which started last month, uses detachable containers that carry up to 400 pounds of packages, presorted per route and neighborhood, returning them once empty. In working with the city's department of transportation, the bikes will reportedly operate within designated bike lanes, as well as on sidewalks (the wisdom of which our Boston bike attorneys question, but presumably the post-program analysis will clearly show the potential for problems, which includes the possibility of collisions with pedestrians and other sidewalk users – particularly given that part of the test area is in a college town).
It is expected to shrink delivery costs for UPS by reducing the amount of gas and automotive maintenance required, as well as eliminating the need for double handling of packages. The company is also testing approximately 9,300 low-emission vehicles worldwide.

The Rise and Fall – and Rise – of Boston Bicycle Couriers
It seemed for some that bike courier services in Boston were going the way of the dinosaur. One cycle courier quoted in The Guardian referred to himself as part of a "dwindling band of urban cowboys," with a major drop-off occurring after 9/11, when a series of mail-borne anthrax attacks made Americans wary of any message that came in an envelope. This coincided too with the rise of email. People across town no longer needed to rely on an individual to send a message or documents from one end of the city through the other faster than standard or even rush mail could promise. Couriers went from earning about $1,500 weekly in the early 1990s to about $600 by the early aughts.
Then came the rise of e-commerce. The Verge reported Amazon ships an estimated 5 billion packages annually around the globe through Prime, and roughly 1.6 million daily in the U.S. alone. With road infrastructure eroding, pollution concerns heightened, gas prices soaring and road congestion at an all-time high, alternative solutions are becoming a business imperative.
Increasingly Popular Boston Bike Couriers May Drive Down Crash Risk
Boston bicycle accident attorneys know there is a science to reducing the number of bike crashes throughout the city. First and foremost is to raise awareness among drivers and of bicyclist rights and motorists' duties – particularly as outlined in MGL Ch. 90, Section 14 which requires motor vehicle operators to use "reasonable caution" in passing. The more bicyclists that are on the road, the more motorists are aware of and expecting their presence. It's when the presence of a bicyclist on the road is not expected that dangers occur.
The risk for many couriers is high because employers often put high time crunch demands on their cyclists to make their deliveries with as much speed as possible. As one analysis by Vox pointed out, this often heightens the risk for many bike couriers.
One analysis by the Harvard School of Public Health in 2002 found that on-the-job injuries among bicycle messengers occurred every 19 hours, resulting in an estimated 42 hours of lost work time each week. of the 113 Boston bicycle couriers surveyed, 90 percent reported some type of on-the-job injury with 70 percent of those resulting in at least one lost work day. Only 32 percent reported having medical insurance.
How Boston Bike Courier Injuries May be Compensated
Boston courier bike injury lawyers can explain that absent medical insurance, there may be a few ways bike delivery workers can be compensated for such accidents. One of those is workers' compensation insurance. Companies like UPS would likely be considering their delivery cyclists employees, and almost all employers in Massachusetts are required to carry workers' compensation insurance to cover on-the-job injuries, per M.G.L. c. 152, the Workers' Compensation Act. So long as injuries occur in the course and scope of employment, their medical bills and a portion of lost wages should be paid, as well as long-term disability if needed. These payments are made regardless of fault, so long as the injuries occurred at work. Independent contractors, however, are not entitled to workers' compensation coverage.
The other way would be through a bicycle accident lawsuit against an at-fault driver. One would need to prove the driver was negligent (at least partially) in the operation of his or her vehicle and that this negligence resulted in injury to the cyclist. Claims would be made against the driver's auto insurance company. If workers' compensation had already been paid for the claim, then the workers' compensation insurer would have subrogation rights to collect what they had already paid from that third-party negligent driver. Despite subrogation rights, these claims are often still worthwhile to file because they pay certain damages that workers' compensation does not, including physical pain and suffering, mental and emotional pain and suffering and loss of consortium (to one's spouse).
If you are a bike courier in Boston who is injured on-the-job, our dedicated injury lawyers may have several options of recovery for you to explore.
If you or someone you love has been injured in a Boston bicycle accident (we prefer the term "bike crash"), call for a free and confidential appointment at 617-777-7777.
Additional Resources:
Boston Bike Messengers Experience Very High Injury Rate and Most Do Not Carry Health Insurance, Nov. 20, 2002, Harvard School of Public Health
More Blog Entries:
Boston Bike Share Wars: Should We Get Attached to Dockless Bikes?, Oct. 8, 2018, Boston Bicycle Injury Lawyer Blog