Bicycling is one of the most efficient – and cheapest – ways to get around urban cities like Boston and surrounding communities. As noted by the Rice Kinder Institute for Urban Research, the majority of bicyclists aren't young, wealthy hipsters making their way on two wheels by choice (though there's nothing wrong with that either). Many include the working poor who bike out of necessity. Unfortunately, Boston bicycle attorneys know these are among the residents for whom bicycling infrastructure – and thus safety – is least accessible. Bicycle injuries for these groups tend to be more common.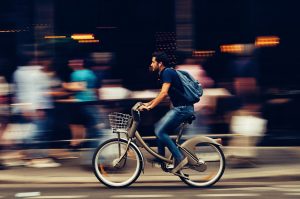 These are sometimes referred to as "invisible cyclists." Working class. Typically a minority. Often a recent immigrant. Commuting to work. Uninterested in the color or sleekness of bicycle style, as long as it works. For these individuals, bicycling isn't an environmental cause or an interesting thing to do with friends. It is a means of transportation, cheaper than a car, faster than walking and more reliable than public transit.
Other difference in these two types of bicycle riders:
Can afford living in the priciest part of the city (i.e., owning a car isn't necessary); lives in an expensive part of the city, close enough to work so owning a vehicle isn't a necessity; lives near a bike-share station built as a residential amenity because local wealthy residents sustain it financially; Riding is generally easier because bicycle infrastructure is in place.
Lives in a more remote part of town; would prefer to own a vehicle due to long transit times to-and-from work; Living area lacks adequate bike-share, docking stations and other bicycle infrastructure.
Some cities, including Boston, are attempting to make it more equitable. Continue reading