Boston may soon be the site of a Bike Share War, and there could be serious repercussions for the pace of Boston's cycling infrastructure growth.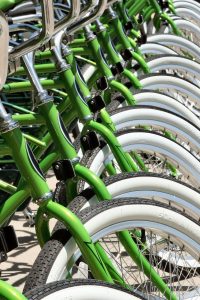 The City of Boston founded the Boston Bikes program in the fall of 2007, with Hubway launching in the summer of 2008 with 600 bicycles and 60 stations citywide. The number of bikes and stations have expanded since then, with the city now reporting by the end of 2018, there will 245 stations and more than 2,400 bicycles. Boston bike injury attorneys at BikeAttorney.com recognize this has been a huge investment for the city and taxpayers, and it provides incentive for city leaders to continue investing in complete streets that incorporate more bike-friendly features, giving riders more ease and confidence.
However, there are a number of businesses now vying to capitalize on Boston's growing bicycle enthusiasm. As The Boston Globe reported in October, several firms offering on-the-spot bicycle rentals in Greater Boston have begun trying to work their way into the market. One of the unique advantages these companies have over Hubway is they don't need fixed docking stations. Instead, renters can park and lock the rental bicycle virtually anywhere.
This so-called "dockless technology" has become wildly popular in China, and it's rapidly spreading to cities like Boston. The problem, as noted by Boston Bike Attorney Andrew Fischer, is that it may ultimately hinder Hubway's growth model – which may be bad for cyclists in the long-term.  Continue reading