Many motorists have lamented the cyclists who break laws while riding in traffic, a new study published by the Danish Road Directorate revealed in that country, where cycling is the preferred method of commute, less than 5 percent of bicyclists break traffic laws, compared to 66 percent of drivers.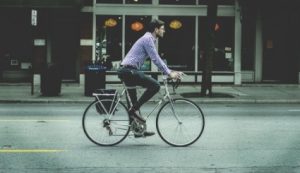 So why the disconnect in perception? Study authors opine that when a cyclist violates traffic laws, it's fairly easy for people to notice. Transgressions by other traffic users, like speeding, are less visible, even though they're far more dangerous.
Furthermore, a 2017 study published in the Journal of Transport and Land Use asserted that where cyclists do break the law, it's rational – because it's done primarily for their own safety, not convenience.
Bike attorneys know these kind of stereotypes are stubborn, but important to challenge not only because they're wrong, but because they can have real consequences for cyclist safety in Boston and beyond. Motorists who presume cyclists to be scofflaws are likely to exercise less care and concern for their well-being.
More Bicycle Lanes/Cycleways/Bike Paths Means More Law-Abiding Bicyclists
The Danish study utilized video cameras at at numerous intersections in major cities throughout the country, including Copenhagen. Objective analysis of more than 28,500 cyclist crossings revealed that fewer than 5 percent of bicyclists broke the rules when they were riding in bicycle lanes. However, that figure rose to more than 14 percent when there was no safe cycling infrastructure.
Smaller cities, like Denmark, tended to have more scofflaw cyclists, but also on the whole had a lot fewer bicycle infrastructure features. Where cyclists did break the law, the most common offense was cycling on the sidewalk.
Meanwhile, wholly two-thirds of motorists broke the law, their most common offense being speeding. Continue reading